In Memory of Alice Christine Gustafson
Alice Christine Gustafson: 4-15-1931 to 4-28-2021.
90 years of great memories presented in a video and photo gallery below.
Followed by historic scans for you to enjoy.
With heartfelt and abundant thanks to John & Kathy Gustafson for decades of physical and financial support of Alice.
And to Frank Gustafson for sharing his love and generous financial support of Alice as well.
A special thanks to Gina, Alice's "angel" caregiver during the final years of her life.
~ The Gustafson Family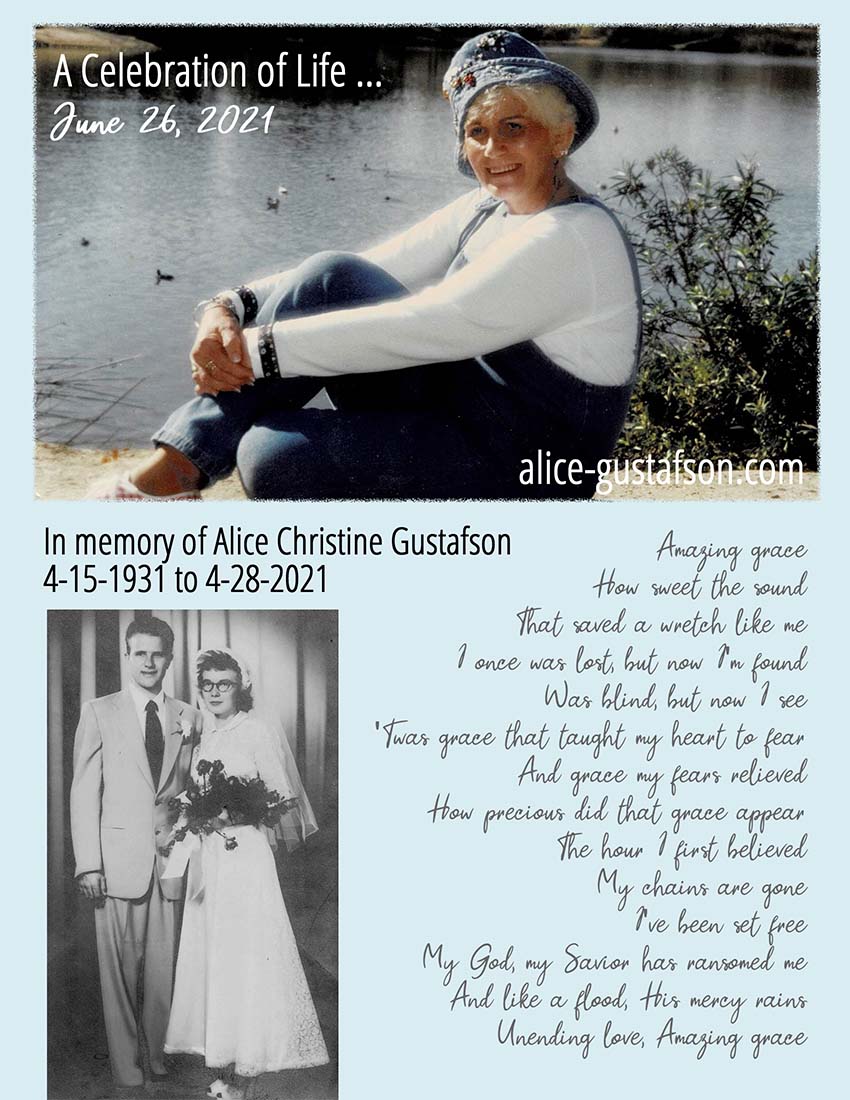 ALICE CHRISTINE GUSTAFSON
Alice was born in Oskaloosa, Iowa, the youngest of four girls. Her family lived on a farm and later moved into town during her teenage years.
Alice met and married John Gustafson in Ames, Iowa after falling in love at first sight on the Ames College campus where Alice was a secretary and John was a student.
Their first son, also named John, was born a year later followed by a daughter Gwendolyn. John Sr. moved his family to California in 1954, a dream he had since first seeing Huntington Beach as a child.
John and Alice had two more children, Frank and Mary Beth. John worked in the dairy industry as a manager and Alice devoted herself to raising the children, cooking wonderful meals for the family, and befriending other "mothers" in her neighborhood.
John Sr. eventually left the dairy industry and, in 1976, purchased the café at the end of the Huntington Beach Pier. Naming it "The End Café." Four years later, John and Alice opened Alice's Breakfast in the Park, located on a lake in Huntington Beach Central Park.
With her children now grown, Alice was able to give her full attention to her new business. She was joined by her daughter, Mary Beth, a master baker, in 1982. Together they grew the reputation of "BIP" and it because a popular destination for local citizens and tourist alike.
John Sr. passed away of cancer in 1989, a terrible loss for the Gustafson family. Alice and Mary Beth found solace in their work at the café which lasted until Alice retired in 2010.
Mary Beth passed away in November of 2015. This loss was particularly difficult for Alice as the two were constant companions for one another.
Alice got to enjoy Mary Beth's three children, Ryan, Clinton and Kerstin as they grew up. Kerstin now has two sons of her own, so Alice delighted in visiting Kerstin and her growing family.
Alice's son, John and his wife Kathy, spent close to 30 years watching over Alice after the death of John Sr. They took on her finances, provided housing for her, and made sure she had everything she needed … and more. Her son, Frank, joined in the effort to provide financial and material support for both Mary Beth and Alice. Truly a family that looks out for one another.
Alice passed away at home in Huntington Beach peacefully in her sleep. Her "angel" caregiver, Gina, was by her side. Alice had just turned 90 years old!
Click Images to Expand and Scroll Through
Historic Scans – Click to Expand