Fresh out of High School, John and his brother took their passion for fixing cars and made it a career.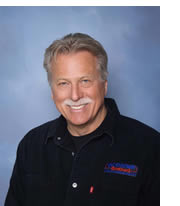 In 1971 the brothers specialized in Volkswagens which were very popular in that era, since then the shop has flourished.

John is a Certified ASE Master Technical, Bureau of Automotive Repair Certified Instructor, Continuing Education Insurance Instructor licensed by the State of California, and a certified I-CAR instructor.
In addition to growing a shop from two employees to the 60 strong it is today, John has been recognized with the Alumni Pillar of Achievement Award from Golden West College for his contributions in the automotive industry.
HUNTINGTON BEACH CHAMBER BUSINESS IN EXCELLENCE AWARD - 2012
John Gustafson is honored to have his 42-year-strong auto shop selected as Huntington Beach's Business of the Year for 2012. According to the Chamber of Commerce: Gustafson Brothers was awarded as a Chamber member business, for showing outstanding contribution to the Chamber, reputation in the community and participation in community involvement. The business also exemplifies success through sound business practices.