Gustafson Brothers – annually inspected by the Automobile Club of Southern California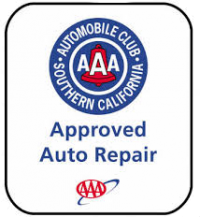 Gustafson Brothers is a AAA approved auto repair shop. When you present your AAA Membership Card you are entitled to:
FREE MAINTENANCE INSPECTION
When your vehicle is serviced by this business, on request your vehicle will be inspected at no charge for items frequently contributing to roadside breakdowns and you will receive a written report of any recommended maintenance or repairs.
WRITTEN ESTIMATE
You will be provided a written estimate of the cost of all work to be performed on your vehicle. The cost of work performed on your vehicle may not exceed the written estimate unless authorized by you in advance.
WARRANTY
Mechanical repairs, including parts and labor, are covered by a minimum warranty of 36 months or 36,000 miles, whichever comes first.
RETURNED PARTS
As evidence of work performed, all replaced parts are returned to you upon request, with the exception of those that must be returned to the manufacturer under warranty or exchange program.
DISPUTE RESOLUTION
The Automobile Club of Southern California will investigate any dispute relating to mechanical repairs between a member and this business. The Auto Club's Resolution decision will be accepted by this business. You are not bound by the Auto Club's decision and may seek recourse thourgh other avenues.
AUTOMOBILE CLUB OF SOUTHERN CALIFORNIA: (800) 797-4231
© Automobile Club of Southern California. All rights reserved.