20/20 Referral Reward Program

We almost never market our services in the traditional way. No newspaper ads, a very small listing in the local yellow pages, no mass mailers and no television or radio ads.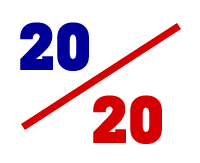 Frankly; over the last 42 years our business has maintained the perfect balance of work because our guests have always returned for service and have referred their friends and acquaintances. Our marketing costs are well below the benchmark for the auto service and auto body industry.

It is only now during these exceptional economic times with record unemployment that we are seeking a few "new" customers.

We "see" clearly that spending money on advertising is not our style. We would rather reward you, our loyal customer, with our 20/20 plan. We are going to get through these tough economic times, and reward you for helping us accomplish our vision.

Use the form below to request your personalized 20/20 Referral Reward Card. We will then mail you a card you can use to tell your friends and family what wonderful treatment you receive at Gustafson Brothers. If they decide to try us out, we will reward them by taking $20 off their first service.

As a thank you for your generous referral we will send you a voucher for $20 to use toward any of the services Gustafson Brothers provides.